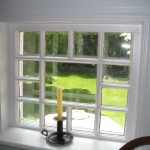 The dictionary definition is an important start to understanding the importance of windows in the historic district:
Fen-es-tra-tion - Noun
The design and disposition of windows and other exterior openings of a building.
Windows, doors, entrances, sliders, French doors, bay windows, box bays, bump-outs, eyebrows, palladian, half-round, elliptical, transom, true divided lights, casements, double hung. Wow! Talk about options.
Windows are a wonderful part of the décor and design of an historic home. In order to meet the concerns of the Historic District, the fenestration can take many forms, as long as it maintains the historic appearance that is part of the Cape. Windows in most cases will need to have a grill configuration or pattern which the divides the window into smaller panes-hence the divided light. The grill pattern can be as simple on a double hung window as 2 over 1 or as unique and antique as the romantic 12 over 12.
The shape and relative size of the window plus the use of either double hung or casements can have a significant impact on the design. In most cases, the ability to preserve the view or to maximize the natural light will be a key factor in what type of window design works best for your home.
With the current energy crisis and high costs of heating homes the use of modern thermal pane windows is increasing in popularity within the Historic District. Since Cape Codders are a frugal bunch, the Act has always encouraged the vinyl "replacement" windows which can often be approved through an Exemption application.
So have fun when you fenestrate!